Minsterley Primary School was founded in 1843 by the Marquess of Bath as explained on the tablet on the front of the building:
This edifice was erected
A.D. 1843
At the joint expense of
the most noble The Marquess of Bath
and several gentlemen of the
Snailbeach mining company
in compliance with the requisitions
expressed in the will of the late
John Johnson ESQr.
of Worthing in the county of Sussex,
by whom was provided
an endowment to establish and perpetuate
a day and every day school
for the education of all poor children
resident in the
Township of Minsterley.
The original stone classroom from 1843 now houses an office and small teaching room. The headteacher's house is now occupied by Minsterley Nursery. A wooden extension of 3 classrooms was added in 1933, a hall and kitchens in 1958 and a further 2 classrooms, corridors and staffroom in 1969. The rapid expansion of the village in the 1980's and 90's necessitated the addition of a further classroom in 2000.
The school has many photographs dating from the end of the 19th century. If anyone has any historic photos of the school which they wish to share we would welcome the opportunity to take copies and publish them on our website.
Here are few of our favourite photos.
Pictures of Minsterley School in our archive
We have been here since the 1840's and have a small archive of old photographs of past times.
We need lots of information about the school. Have you got a story to tell, do you have any old photographs?
If so we would love to hear from you.
---
Minsterley School 1954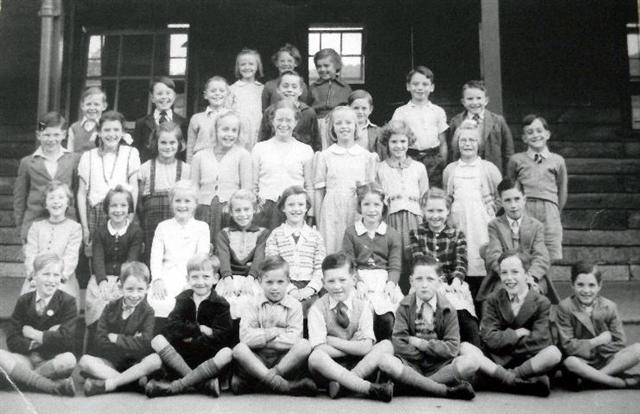 Thanks to Mel Bailey for submitting this.
Back Row: Janet Williams, Jefryn Panser, Sandra Barsby
4th Row: Mick Williams, Michael Roberts, Tony Speake, David Jones, Geofrey Hampson, John Pugh, Tony Purslow.
3rd Row: David Rowson Heath Beeton, Marion Davis, Jackie Rowson, Iris Morris, Maureen Williams, Audrey Sandies, Betty James, Douglas Jones.
2nd Row: Wendy Pugh, Jillian Howells, Angela Wright, Norma Pugh, Marion Beeton, Anne Manning, Heather Crowther, Roy MacGregor.
Front Row: Michael Williams, Barry Pole, Geoff Potter, Melvyn Bailey, Stewart Jones, Richard MacGregor, David Smith, ? Edwards.
---
---
Class 4 1980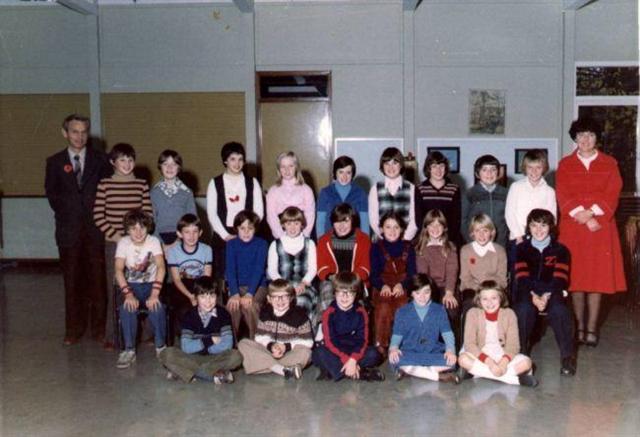 This is a picture of 'class 4' in 1980. From left – Mr.Leech, Alan Owen, Geoffrey Pritchard, Corrine Aldridge, Debbie Pierce, Jacqueline Watkins, Helen Llewelin, Sonia Wright, Paul Dent, Robert Mitton, Mrs Maidment, David Cowper, Chris Underwood. Steven Chislet, Mandy Hughes, ??, Diane Whittal, Sharon Palin, Samantha Redge, Phil Bailey, Richard Gawthorne, Neil Potter, Richard Swain(me), Claire Watkins and Janet Davies.
(Richard Swain's information)
---
Early 1970s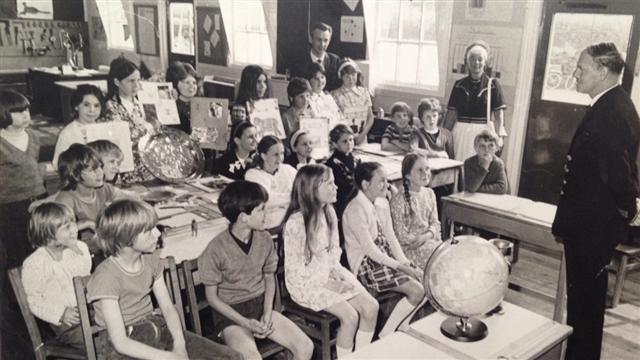 The picture above was sent to us by Lorraine Fletcher (nee Ruff); we think it is dated from the the early 1970s.
Captain Leathart visiting the school.
Back Row: Chris Lloyd, Mandy Evans, Sally Cox, Christine Jones, Ivan Downes, Gillian Davies, Elaine Powell.
Middle Row: Tony Morris, Mark Chorley, Elizabeth Neal, Neal Lewis, Phillip Williams, Kevin Williams, Tony Swain.
Front Row: Royston Whittall, Andrew Morris, Howell Evans, Sandra Knill, Carol Bailey, Lorraine Ruff.
Headteacher is Mr. Leech
Lorraine also contributed these pictures from the newspaper. Many thanks Lorraine,